David Conyers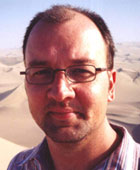 David Conyers is an Australian based author of science fiction and dark fiction. His publications are found in the numerous anthologies including Horrors Beyond, Hardboiled Cthulhu, Arkham Tales, Cthulhu Express, and in several dark fiction and gaming magazines. In 2004 he joined the team at Elder Sign Press as the Associate Editor for Book of Dark Wisdom. David is also an illustrator with is artwork appearing in many magazines and gaming books.
A long time gamer, he is the co-author of Pagan Publishing's Devil's Children, has contributed to upcoming publications for the Call of Cthulhu role-playing game produced by Chaosium Inc., including Secrets of San Francisco and the expanded editions of The Stars Are Right! and Spawn of Azathoth. He has also written for Darcsyde Production's Trauma role-playing game.
Born in Sydney and growing up in the Adelaide Hills, David graduated with a Bachelor of Engineering (Civil) from the University of Melbourne. He then worked on several remote projects in outback Western Australia such as the construction of a gas pipeline and the commissioning of a mine processing plant. Afterwards he backpacked through Africa and Europe before returning to Australia where he worked in marketing and corporate communications, eventually managing a marketing services department for a global engineering company. These days he works in marketing communications.
He lives in Adelaide recently relocating from Melbourne in 2005 with his wife and two cats. During the last eight years David has been bitten by the travel bug, his first venture overseas was not enough to settle him, and since then has explored six continents and over twenty-five countries, all of them providing inspiration for his writing. Email David
David's Links
David's Work