Irene Castro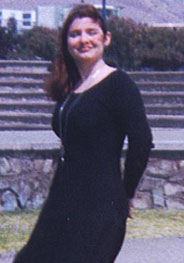 I was born in the city of Antofagasta, Chile on October 20th, 1971. Since I was a child I have had an irresistable love for horror tales. I would spend Sunday afternoons listening to my aunt tell ghost stories. I loved to draw and read all types of horror. Vampire tales were my favorite. I read everything I could from Carmila to the Vampire Chronicles of Anne Rice.
One day in 1993, while walking through a small book fair, I found a new kind of horror. One that made me feel fear like none had before. It was a little blue book (a pocket edition) with white letters spelling out a name I had not ever heard before – Lovecraft, Dunwich Horror. I bought it and started reading as soon as I got home. I knew hell and paradise all in that day and never forgot it. Lovecraft took me to worlds that I never imagined even in my darkest dreams.
There was the discovery of new worlds of horror. Old horrors, behind ordinary fears. Since that day I have been compiling all the Lovecraft work I can find and sharing with the world that wonderful vision that Lovecraft gave to me.
My work can also be found on artelista.com – under my pseudonym: Itzel Acosta
I started to read the stories and realized that most people cannot see what Lovecraft described, so I decided to paint to show others. Behold the "weird children of my imagination". ¡Iä! ¡Shub-niggurath! ¡The goat with million brood! Email Irene
Irene's Art
Click on any image for a larger view.